About KBW BannerFlex
KBW BannerFlex® Brackets are the "best possible choice for exterior light pole banner hardware!"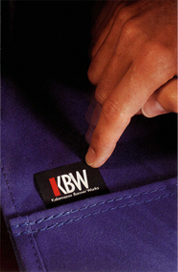 Originally founded in 1983 by our President, architect Roger Lepley, AIA, Consort Display Group started as Kalamazoo Banner Works, Inc. (KBW), in Kalamazoo, Michigan. We began by helping organizations attract attention and enhance their streetscapes with the finest quality light pole banners and state of the art banner hardware. KBW was the first street banner company in the nation to market nationally and internationally, offer stock designs and to provide specialized mounting hardware created to dissipate wind force.
As demand has grown, so have our product lines, all of which are designed and manufactured in the USA in Southwest Michigan by Consort. We remain committed to using cutting-edge technology, resulting in well-designed, thoughtful and reliable products and sold and serviced by our friendly and attentive staff. And, Consort warranties are the strongest in the industry.
Consort is principally recognized globally for our superior BannerFlex® brand light pole banner bracket products for vertical format banners. As the originator of the very first fiberglass and aluminum combination brackets, Consort continues this tradition of being the industry innovator with products that always surpass the ordinary. Our research and development is on-going and relentless.
The Consort product lines strive to be unique in the display industry with such brands as:
Abstracta® Modular Display System
Display One® Exhibit System
Dori Pole® Pennant System
Podia® Tabletop Display
Abstracta® Furniture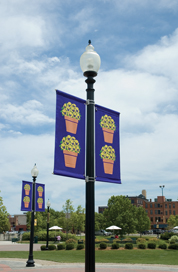 Within our KBW BannerFlex website you will find all the reasons to trust our products, especially when you are mounting banners outside in the wind. Our product additions and improvements have always been in response to our customers needs and in thinking beyond what products are already on the market and what has already been addressed. We do not copy others. We innovate and others copy us. But, fortunately, we continue to do it all better than anyone else in the world. Not hype. It's for real. Our wind tunnel testing, our sharing of data such as the Banner Hardware Guidebook, our Hardware Banding Guidelines and all of the information shared on our "Banners and Display Blog" has been created to make the difficult seem simpler. Putting banners onto light poles is serious stuff and we know it. Let us help you make the best possible choices.
The Kalamazoo Banner Works banner line, which started this entire company, is solely dedicated to the large vertical format banners that have been so popular since 1983. Due to the rich texture and bold images of our digitally printed acrylic marine fabric (Sunbrella®) banners, we have continued to offer this printing durable fabric and will for many years. These vibrant textile banners are the preferred choice of many of our customers. Of course, we also specialize in vinyl digital banners, for the same purpose and we strive to provide the most durable methods possible. Our digital printing technology, including large format flatbed printing, has advanced into impressive capability and design options are limitless. Our Consort Art Department is eager to assist you with design and we offer free, no obligation design services for most projects.
To manufacture our many hardware products in-house, we have expanded our machining and CAD capabilities now incorporating CNC, stamping, cutting and burnishing along with two very large OMAX Waterjet Machining Centers. A subcontractor aluminum foundry, injection molding company and powder coating and plating vendors are located within 50 miles of our manufacturing plant.
We invite you to visit our other product sites to discover the unique and fun aspects of the Dori Pole, our Podia Tabletop Display and our Abstracta Home Furniture options.
You can trust the experts, the originators and innovators at Consort Display Group.