Learn About Proper Banner Bracket Banding Techniques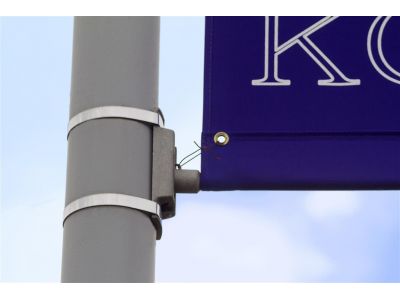 BannerFlex banner brackets are designed to hold up against even the harshest weather, but only if they are mounted using the proper banding techniques. If they are not properly installed, your banners can be ripped off and damaged by strong gusts of wind. This is why it is crucial for you to follow the proper banding techniques to ensure that your banners are safe and secure for as long as you need them displayed. In today's post, we will discuss the equipment you need and the techniques for properly mounting your banner brackets.
Make Sure You Have the Right Equipment
As with any other task you need to complete, without the right equipment, installing your banner brackets can be a frustrating experience with a greater possibility of the product failing. This could mean damage to the brackets or damage to the banners, themselves. Make sure you get the most out of your banner investment by having all of the right tools you need to mount and secure the banners where you need them. This means having the right banding tool along with the banding roll and banding buckles that allow for proper, secure installation of your banners in a light pole, the side of a building, or wherever you need to display them.
Don't Take Shortcuts
When you are mounting your banners, it is important to follow the procedures to the letter to ensure that they are safe and secure. If you take shortcuts during the installation process, you are only setting up your banners for failure. For example, without double-banding the brackets, you may not have enough compression to hold properly. We can provide you with a banding tool that will help you properly install your banners and give you peace of mind that they will not be ripped and blown away with serious gusts of wind.
Our Industry Experts are Here to Help
With more than 20 years of experience in the banner industry, the dedicated professionals at BannerFlex have the knowledge to help you make sure you have the right banners and hardware to successfully display your message to your intended audience. With proper techniques, you can install the hardware on your own and rest assured that they will stay there as long as you need them to be there. You can check out our online guidebook that contains information on all the necessary step to properly install your banners. Contact us and let us know how we can assist with your banner needs.