Proper Mounting is Critical for Wall-Mounting Exterior Vertical Banners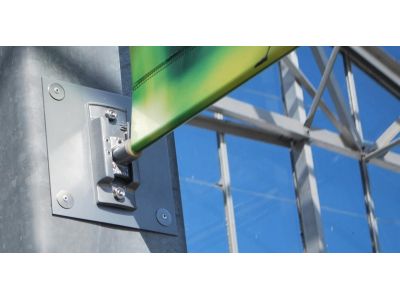 There are many things to consider when deciding on proper wall mounting techniques for exterior vertical banners. You must take into account the dimensions of the banners, how high up the mounting will be, what material the wall surface is made of, and what surrounding environmental conditions could play a role in the wind load on the banner.
The force of the wind is the most notable peril when it comes to wall-mounting exterior vertical banners. The higher the brackets are from the ground, the more pressure the wind will put on them and the banner itself. Strong winds are not the only concern – steady breezes are a problem, as well. Even light wind will cause vibrations on banners and can eat away at the wall edges of the main casting. To curb this, we suggest the use of a steel or aluminum mounting plate between the casting and the wall's surface. The plate will spread the vibrations out and make them less concentrated.
If you are mounting on a weak wall material, you should use through-bolts. These bolts would go through the wall to another plate or washers on the interior wall. If you're not sure if your wall material constitutes the use of through bolts, you should contact a contractor or engineer to see if lag or anchor bolts would be sufficient. You may be mounting your exterior banner in an area where there is little wind force or you could be in an area where wind force is channeled forcefully. It's important to make these determinations before you decide on the height of the banner and what bolts or screws you will use.
At BannerFlex in Kalamazoo, we are known as the top innovator in the banner bracket hardware industry. We are constantly investing in research and development to make sure our brackets are the absolute best on the market. Contact us today with any questions or concerns; we'd love to hear from you!