Guide Campus Guests with Proper Banner Bracket Hardware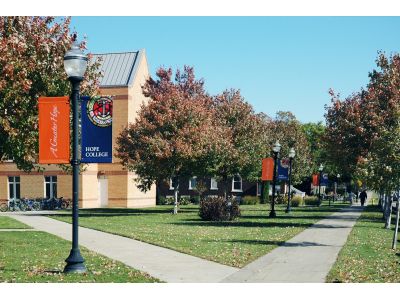 The time has come again when this year's students don their graduation caps and receive their degree, and it's during this time that you can guide families across unfamiliar territory of campuses with the right banner bracket hardware. Campuses come in all different shapes and sizes, and, when family is visiting their graduating student to spend time with them before or after, it may be confusing to them without something telling them where they're at.
Give a landmark
By investing in BannerFlex for the proper banner bracket hardware, you guarantee a durable method of directing people. BannerFlex partners with Kalamazoo Banner Works, a sister company, to create eye-catching, impressive banner designs that you can hang on our banner bracket hardware for the long run. By putting the name of a general location on campus or even the building's name, you can help make sure guests to your campus can traverse it with little difficulty.
Celebrate in style
Your graduating class may be feeling the pressure that comes with the realities of graduation, and you can ease some of the stress with words of encouragement from a BannerFlex banner. Messages of congratulations for everyone graduating can be a comfort to those feeling anxious about graduating, and, by investing in professional equipment from BannerFlex, you can reuse banner bracket hardware year after year without it failing.
Simple installation
When you work with hardware from BannerFlex, you get equipment that is not only efficient, but easy to set up as well. The banding tool we offer allows you to apply our banding to secure banner brackets where they'll stay for years to come with ease.
BannerFlex is the recognized provider of light pole banner bracket products that can give you the dependable way to hang outdoor banners. Tested to withstand extreme wind conditions, BannerFlex won't let you down.