Banner Bracket Hardware Hangs Strong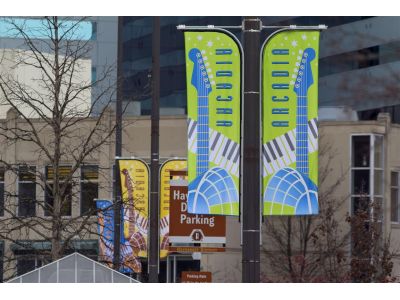 BannerFlex crafts banner bracket hardware that keeps banners hanging strong, no matter the season or conditions. With over 30 years of experience, BannerFlex has developed the best possible system for your displaying needs. With different options of this hardware available, you can pick the perfect one that you require.
Strong arms
BannerFlex has different options for arms that will all keep your outdoor banners held tightly. Build strong enough to withstand wind-force tested up to 100 miles per hour, our banner arms won't let you down. After the wind has died down, you'll see your banner arms go right back to their original position every time. Flexibility of this level allows the arm to take less stress from winds over time, saves your banner the stress of being pulled by the wind, and save the pole the stress of the banner brackets pulling on it too hard. This is possible because each is made with pultruded fiberglass to make them strong holding, light weight, and corrosion resistant.
Hanging options
BannerFlex offers different choices for hanging your banner bracket hardware so you can put banners wherever you need them. With a wall mount plate, flagpole adapter, tie-down mount bracket, and square pole adapter, every surface is covered for your banner hanging options. Each option has been developed over the years along with the banding options we provide to ensure a strong and dependable hold for your banners.
See the cost
We at BannerFlex like to provide a guided purchasing option for everyone visiting so you can get an estimate whenever you would like one. This will help you see how our banner bracket hardware will not only give you the satisfactory hold you need but will give it to you at a great price.
With strong, easy-to-use products, BannerFlex helps all who need to secure banners in place, no matter where they need them. Contact us today to learn more!