Hold Banners Strong Against Fall Winds with Banner Bracket Hardware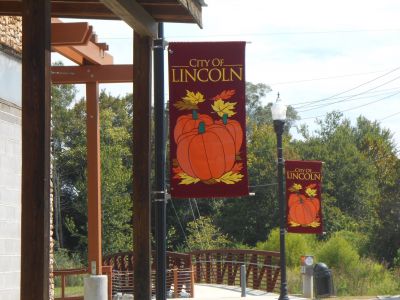 With fall in full swing, we've already started to encounter high-wind conditions, and you can guarantee that your banners hold up to even the heaviest of winds with banner bracket hardware from BannerFlex. Normal banner-holding systems can keep your banner aloft but may not necessarily keep them safe during heavy wind conditions in the way that BannerFlex can. When you need dependability, you need the banner bracket hardware from BannerFlex.
Mount anywhere
With light pole mounts, square pole adapters, wall mounts, flag pole mounts, and more, the banner bracket hardware from BannerFlex can be attached almost anywhere for your banners. Each banner bracket rod or arm is crafted to fit your banner depending on what you need. Of our models, the Airow Rods are designed to withstand the greatest wind conditions, so when faced with fall wind, these can be a great addition to any street banner setup.
Lock in place
Although our banner brackets and rods can keep your banner in the right position, they need to be secured by attaching them to your mount with dependable banding. BannerFlex also offers this banding as well as a banding tool to ensure your banding and banner bracket hardware is a tightly held by the bracket. Wherever, whenever you need banners installed, BannerFlex has the tools to help you get your message out.
Find yours
With our guided purchasing tool as well as our wind force calculator, you can find the perfect equipment you need depending on the average wind speeds in your area. Our systems are tried and true and guarantee that you can find the best banner bracket hardware for your banner needs. If any part of the process is confusing, our team is ready to help!
With products that have been developed over the years based off customer feedback, BannerFlex has the dependable banner bracket hardware that won't give in to high winds this fall.