Lead the Holidays with Banner Bracket Hardware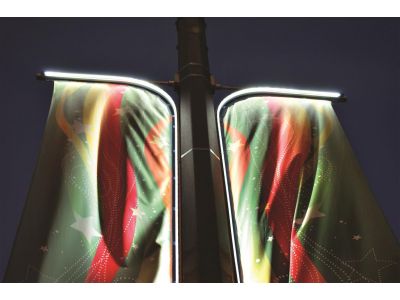 As snow begins to fall for the first time and we make our way headfirst into the holidays, businesses, townships, schools, and more can raise spirits using effective banner bracket hardware and a holiday banner. We have all had a rough year with COVID, and the holiday season can be the perfect thing to lift spirits and help us continue a return to normalcy.
Holding all winter
When there are different options to hold your banners, you may be wondering what makes the banner bracket hardware from BannerFlex your best choice, and the answer lies in the design. Built and tested to stand up to even the strongest average wind speeds over extended periods of time, your banners will effectively be held without damage being done to them by the elements all winter long. This means you can display your cheerful, holiday messages through the winter season, letting passerby's know about specials, important events, or simply to spread the cheer of the season.
Fit anywhere
If you can imagine a banner being put up somewhere, odds are we have the banner bracket hardware that you need to make it a reality! With a flagpole adapter, square pole adapter, and more, BannerFlex carries all the hardware necessary to help you get your banners up and stay up. With our team's expertise, we will show you how you can best utilize any of our banner bracket hardware to ensure that your setup is tight and secure, so that you may have confidence in through the holidays and beyond. Check out our documentation or watch some of our videos to see what we are talking about!
The best choice for hanging your banners, the banner bracket hardware from BannerFlex is your trusted way to display messages and images whenever you need. Find you perfect banner displaying options by contacting us soon!