Depend on Effective Banner Bracket Hardware Month After Month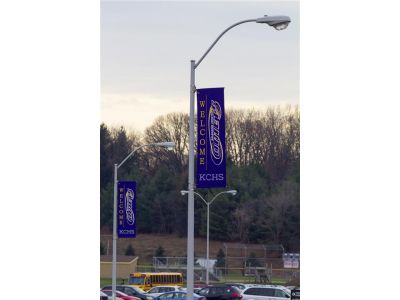 We are at that time of year again where each month brings with it a special holiday or time of year that you can get the perfect displays set up for with effective banner bracket hardware. Better than any temporary setup, the banner hardware from BannerFlex can bring a long-lasting way for individuals or businesses to get out important messages for holidays, times of year, celebrations, and more.
Always something happening
With Valentine's Day just around the corner, then St. Patrick's Day, Easter, and so on, there are plenty of holiday opportunities coming up soon that you can advertise events or specials for with the banner bracket hardware from BannerFlex. Designed to give your banner displays the dependable hold that will last for years, our banner bracket hardware is perfect for displaying anything that your business, township, and more might have going on for the holidays. We encourage you to take a look through our different models offered and what they are individually capable of to find the perfect one for you.
Annual banner bracket hardware
Banner bracket hardware should be designed to last, and, with BannerFlex, you can have hardware that will last you year after year, even in in the roughest conditions. Our bracket hardware is designed to withstand high levels of wind speed, and can stay out all winter long, so you can show off displays throughout the year. We can about giving our customers a quality product, and the banner brackert hardware that we provide is sure to satisfy. Whether you need banner brackets for outdoor light poles or need them fixed to the side of your building, BannerFlex has everything that you can use for effective banner displays.
Originally started as Kalamazoo Banner Works, our parent company Consort knows what it takes to hang banners and hang them for the long-term. Trust in our decades of experience with banners and the hardware used to hold them.