Our Banner Bracket Hardware Can Withstand Fall Winds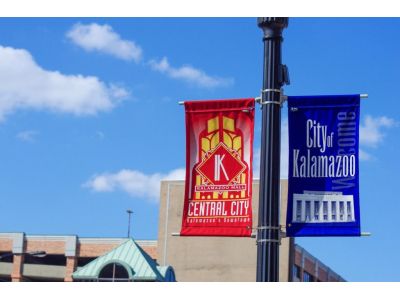 Bannerflex can provide you with high quality banner bracket hardware to withstand the harshest weather conditions. With the fall weather fast approaching, higher winds and more precipitation are going to be more common. You don't want to risk having your banners ripped or blown away completely because of faulty bracket systems. With the high quality banner bracket hardware from BannerFlex, you can rest assured that your banners will be secure and highly visible to current and prospective clients. There are no more dependable products on the market, so read further for more information about our high quality banner bracket hardware.
Mount Them Anywhere
At BannerFlex, we have a wide range of banner bracket hardware that gives you numerous options for where you can mount your banners. From light pole and flagpole mounts to wall mounts, square pole adapters, and more, we can provide you with high quality banner bracket hardware to mount your banners almost anywhere. We also have hardware in various sizes, so you can find the right solution for your business needs. Our Airow Rods are the strongest option, with the ability to withstand even the harshest wind conditions, making your banner setup secure during the fall and winter months.
Secured in Place
The banner bracket hardware is only as strong as the banding you need to mount them. Fortunately, BannerFlex has that covered as well. We can provide you with all of the banding and hardware items you need to ensure that your banner is properly and tightly secured by the bracket. No matter where you intend to install banners for your business, you can rest assured that the products from BannerFlex will perform the way you need them to, no matter what the weather conditions might be.
Find the Products You Need
If you are unsure which products you need to mount your banners, we have both a guided purchasing tool and a wind force calculator that will help you find the equipment that is sufficient for the weather in your area. Our proven system will ensure that you will find the best possible banner bracket hardware for your specific needs. Of course, we are always available to help if you have questions about any part of the process.
BannerFlex offer dependable banner bracket hardware and other products that have been designed and re-designed through years of feedback from our numerous satisfied customers. Call us to find out how we can assist you today.