Banner Bracket Hardware that Stands Up to Heavy Winter Snow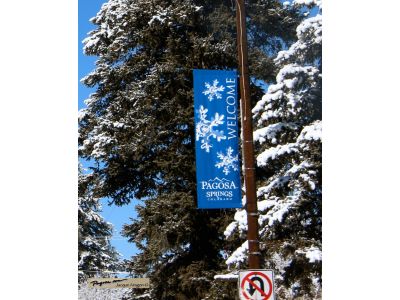 BannerFlex offers high quality banner bracket hardware that will stand up to even the harshest weather. When the heavy winds and snow of a Michigan winter rear their ugly heads, they can wreak havoc on your signs and banners. The banner bracket hardware offered by BannerFlex is designed to withstand the forces of nature, so your banner will stay in place no matter what Mother Nature has in store. We have all of the equipment you need for easy installation and maintenance of your banner brackets to ensure a strong hold that you can depend on. For more information about the banner bracket hardware and accessories BannerFlex has to offer, please read further.
Strong Banner Brackets With an Incredible Warranty
BannerFlex has a great selection of banner brackets that have been tested to withstand winds of up to 100 miles per hour when installed properly using our instructions and guidelines. We have equipment that can be installed for banners ranging from 18" x 38" up to 36" x 96", so you will be able to find the right hardware you need for whatever banner you need to display. You will also enjoy the peace of mind knowing that this banner bracket hardware is covered by a 12 year warranty, making it some of the most reliable hardware in the industry. Whether you are hanging banners for school, a business, or a municipality, this hardware will keep your message displayed prominently for as long as you need.
Get All the Information You Need from the BannerFlex Guidebook
We know that your banner bracket hardware is a serious investment. You need it to perform properly to display your message; otherwise, you could end up with damaged or lost banners and brackets. BannerFlex is proud to provide an extensive Banner Hardware Guidebook. This guidebook, which can be downloaded as a pdf file here, offers a wealth of information about everything from proper installation, troubleshooting tips, product testing, warranty information, and much more. If you are still having issues with your banner bracket hardware for any reason, feel free to call us, and one of our friendly professionals will be happy to assist you.
BannerFlex is committed to providing the best banner bracket hardware products and accessories in the industry. No matter what sort of message you are trying to convey with your banners, you can rest assured that our hardware will keep the banners safe and secure through even the harshest Michigan weather. Contact us and let us know how we can assist you with your banner bracket hardware needs today.