Use Banner Hardware to Celebrate Graduating Seniors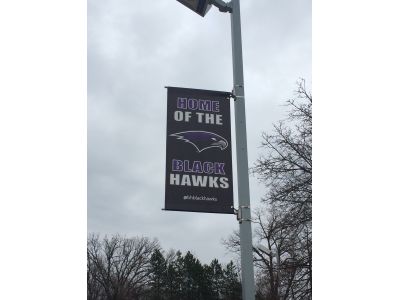 The school year is coming to a close, which means that graduation season is almost upon us. By using banner bracket hardware to display a banner from our sister company, Banner Works, BannerFlex can celebrate the accomplishments of graduating seniors. Your school district or college can get an early start on the recognition process by ordering new banners along with all the banner bracket parts and hardware you need. With these products, you can proudly and effectively display your pride and appreciation for the hard working students as they move on to the next phase of their lives. These high quality products will stand up to the harshest elements, including any last minute winter surprises that Michigan is notorious for. Read further for more information about how we can help you pay tribute to students' success during graduation season.
Display Your Message Wherever You Need It
Whether you intend to post your banners indoors using a wall mount or on light poles in your parking lot, BannerFlex has all of the parts and hardware you need to successfully display your banners. We have a wide selection of mounting brackets and pole mounts to get accommodate the best possible location for you to display your banners. When installed properly following our Hardware Guidebook and other installation guides, your banner will stand secure for as long as you need it without having to worry about wear, tear, or the elements.
Durable Banner Hardware That Will Last
If properly installed and maintained, you can change out banners and repurposed the BannerFlex hardware over and over for many years, meaning your school can use them for Homecoming, Prom, Plays, Musicals, and more throughout the year. All you need to do is get new banners in the same dimensions to ensure they properly fit the hardware you already have to maximize your banner bracket hardware investment. Promote events and honor your students with the best quality banner bracket hardware on the market from BannerFlex. We even have banner stands that can display your message at ground level for more visibility.
BannerFlex has worked hard to be recognized around the world for providing the very best when it comes to banner bracket hardware. With a wide selection of products, you are sure to find the right mounting hardware that will fit your needs. We also provide you with all the installation instructions (which can also be found online) to ensure successful installation. We look forward to hearing about your banner bracket needs, so you can properly honor your graduates.