Quality Light Pole Banner Hardware You Can Use All Year Long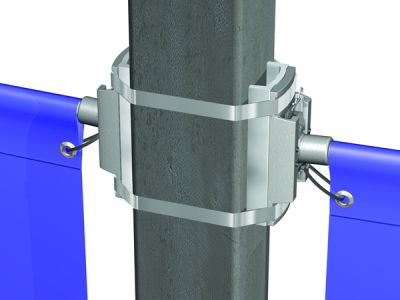 Light pole banners can be used to convey any number of messages to the public throughout the year. Whether you want to set up a display to honor high school seniors for graduation, announce a holiday festival, or promote your business, BannerFlex can provide you with a durable set of banner bracket hardware that will hold up and secure your banner through even the harshest Michigan weather. These products are easy to set up and maintain, with enough options available to properly display your message. Read further for more information about the banner bracket hardware we have available and how it can be used to display your messages no matter what time of year it is.
Order Through Our Guided Purchasing Process
If you are new to BannerFlex, you don't have to worry about the ordering process. Our website has a guided purchasing process that takes you through the steps of choosing exactly which banner bracket options you need for the banner you need to display. Starting with the type of bracket you want, for example: light pole brackets, you can also choose the right bracket based on size, the number you need, the style and finish of the hardware, and even the method for attaching the brackets. This allows you to not only get the right products for your banner, but you will also get a good idea of how your banner hardware will look before you even place your order.
Keep Your Banner Hardware Costs Under Control
While our ordering process is perfect for making sure you get the right bracket hardware to display your banners, you also get the benefit of controlling costs by seeing the price of this hardware as you go, allowing you to keep your banner project within your allotted budget. We have the prices for all products clearly laid out, giving you a clear idea of how much your bracket hardware will cost. We are dedicated to providing our clientele with the best products on the market and will make sure your needs and expectations are met, no matter how many brackets you need to set up.
BannerFlex offers the best quality in light pole banner bracket hardware in the industry. To properly display your banner safely, no matter what Mother Nature brings to Michigan, you can count on our durable products all year long. Contact us with any questions you may have about the ordering process.