Banner Arms That Are Flexible and Durable Against Strong Summer Storms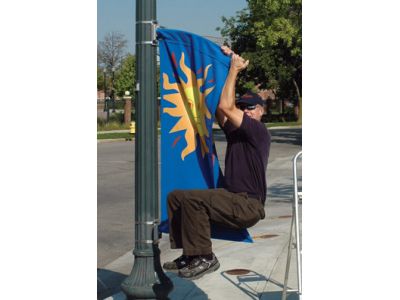 Investing in banners for your business or event doesn't do you a lot of good if you don't have the right hardware to hold them in place. This is especially true if you use cheaper banner hardware that cannot withstand strong winds from summer thunderstorms. Winds can rip the hardware off its base and even rip the banner off, blowing it down the road. BannerFlex has a full range of banner brackets and other mounting hardware that can withstand winds up to 100 miles per hour. This means that no matter what Mother Nature throws at your banners, they will remain in place and continue to function the way you need them to. In today's post, we will take a closer look at the benefits of choosing BannerFlex for your banner bracket needs.
Unmatched Strength You Can Rely On
BannerFlex can provide you with banner brackets made from pultruded fiberglass which has been tested to withstand up to 100 miles per hour of wind force. Pultruded fiberglass is unique in that it is extremely lightweight while also having the strength of metal without the threat of rusting that occurs with metal brackets. They also feature great flexibility that alleviates the amount of stress that wind and weather your banner brackets have to endure. This also helps to reduce the stress on the pole you have mounted your banner on, giving you durability that other banner bracket technology cannot match.
Standard Brackets to Mount on Light Poles
Perfect for light poles, the standard D3 round arm bracket offers consistent, long-lasting performance that make them the industry standard. They are a terrific investment, as they are inexpensive and last for years and years. This has made them our best-selling banner bracket item for more than 30 years, and we are sure that you will be completely satisfied with their quality and performance.
Airow Rods for Superior Support
Modified with a shape that tapers down to the outer edge of the bracket, these rods offer increased flexibility of about 50% more than standard round brackets. This flexibility helps to increase the amount of wind spillage while reducing the stress on the banner and the pole it is attached to. If you need to place a banner in an area with consistently high winds, these Airow rods are the best option for long-term stability.
For more information about our banner bracket products or to place an order for the items you need, please contact us, and one of our friendly professionals will be happy to help.