Durable Banner Bracket Hardware for the Fall Season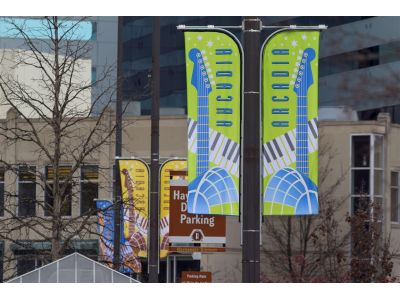 With the fall season almost upon us, you need banner bracket hardware that can handle the harsher weather that comes with the end of summer. BannerFlex can provide you with the strongest banner bracket hardware in the industry to keep your banners safe and secure against even the strongest fall winds. Don't allow your banners to be ripped away and blown down the road by a strong gust of wind. Our banner bracket hardware allows you to display your banners with peace of mind knowing that they are safe and secure. In today's post, we will discuss why BannerFlex banner bracket hardware is the best you can find anywhere.
Our Hardware Can Be Mounted Anywhere
BannerFlex banner bracket hardware offers unlimited versatility in terms of where you can mount your banners. Whether you need wall mounts for an interior banner or light pole and flagpole mounts, or even square pole adapters, BannerFlex can provide you with high quality, durable hardware in various sizes to accommodate any style of banner you need to display. You can even choose our Airow Rods, which offer even stronger durability than our standard products, making them the perfect option for the harsh weather in fall and winter.
Keep Your Banners Securely in Place
Without the proper banding, your banner bracket hardware could potentially fail, but BannerFlex has all of the strong banding you need to properly secure your banners and maximize the performance of your bracket hardware. By following the assembly directions, you can mount your brackets exactly where you need them without having to worry about them being ripped away. From store promotions and sales to school events and holiday celebrations, you can get your message out there for everyone to see, whether indoors or outdoors.
Make Sure You Get Everything You Need
You may be unsure about what products you need to properly mount your banners. We can help you with that, as well. We have a guided purchasing tool and a wind force calculator that allows you to select the proper equipment that is sufficient for properly mounting the right banner in the right location for your needs. This system makes it easy for you to find the most durable options for your banner mounting project. If you still need assistance finding the right products, we always have friendly staff available to help you with this.
We at BannerFlex have been providing customers with high quality banner bracket hardware and other products for nearly forty years. We are always working to improve our methods and products to maintain our standard of quality. Contact us and let us know how we can assist you with your banner bracket hardware needs.