Strong Banner Hardware to Withstand Winter Weather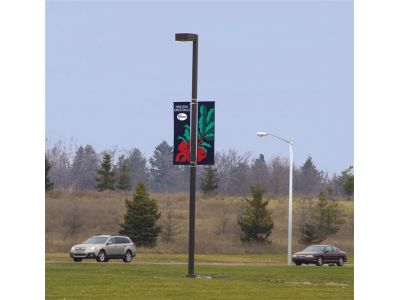 When clients throughout the Kalamazoo area need strong, reliable banner hardware, they count on the experienced professionals at BannerFlex to meet all of their needs. Especially with the holidays and harsh winter weather coming, you need banner hardware that will hold up to the strong winds and extreme cold to keep your banners in place. We have spent years designing our banner bracket hardware to withstand the harshest weather conditions, so your banner will stay in place all season long. In today's post, we will discuss why you should entrust BannerFlex for all your banner hardware needs.
Our Banner Brackets Hold Up to the Worst Weather Conditions
Weather can cause problems with outdoor banner displays, but the winter weather in Michigan makes those problems more difficult to deal with. Some banner displays are cheaply made and will crack and fail if they freeze. When this happens, it take nothing more than a single strong gust of wind to rip away your banners and send them blowing down the road. Don't risk having to replace banners with subpar banner hardware. The banner bracket hardware available from BannerFlex can withstand even the harshest Michigan weather, while also featuring buckles and banding made of stainless steel that is resistant to oxidation and rust. All you have to do is install the hardware by following the instructions, and you can rely on your banner hanging in place until you need to change it.
Banner Bracket That is Easy to Use
One of the best benefits of using BannerFlex banner hardware is that it's easy to install and setup for your banners. We have easy to understand instructions that contain pictures, giving you a clear illustration of how to successfully install your hardware. We include this documentation for every customer, but it is also available in digital form right on our website. If you ever need assistance with installation, feel free to contact us and one of our friendly associates will assist you.
Get the Right Size Hardware for Your Banners
We at BannerFlex has a wide selection of banner brackets and hardware in various sizes, so you can get exactly what you need for your specific banners. Whether you have a smaller banner for decorative purposes or a larger banner to announce a sale and event, we have everything you need to make sure the message is displayed properly. Contact us and let us know about your banner hardware needs for the holiday season.