Get Banner Bracket Hardware That Can Hold Up In Winter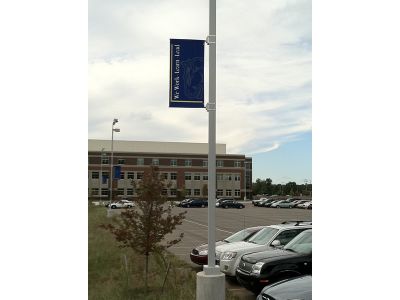 When you are investing in banner bracket hardware for your business in Michigan, you need strong, high quality equipment that can hold up to heavy winds and accumulating snow during the harsh winter months. BannerFlex by Consort offers the strongest banner bracket hardware in the industry. This hardware has been specially designed to hold up to Michigan's rough winter weather, keeping your banners in place and visible for your intended audience. By following the easy-to-follow instructions, you can properly install your brackets with full confidence that they will last. In today's post, we will discuss the benefits of using BannerFlex hardware for all of your banner mounting needs.
Get Banner Brackets Protected by a Great Warranty
The last thing you want after installing a banner is a large gust of wind to rip the banner and blow it down the road. Unfortunately, with subpar products, this is more than likely to happen. BannerFlex can provide you with better solutions. The bracket equipment we offer has been tested to withstand winds up to 100 mile per hour when properly installed. We have equipment that can handle banner of various sizes from 18 by 38 inches up to 36 by 96 inches, so you will have no problem finding the right products to properly display your specific banners. We stand behind all of our products with a 12 year warranty, giving you peace of mind knowing that your banner bracket hardware is some of the strongest in the industry. From banners for municipalities and schools to businesses and more, BannerFlex can ensure that your banners are secured no matter what time of year it is.
Our BannerFlex Guidebook Has All the Answers
Banner bracket hardware is an underrated investment for your business. Without quality equipment, you not only run the risk of having the equipment break, but you could also lose the banners, themselves. This will result in you having to purchase new banners AND new hardware. By ordering banner bracket hardware from BannerFlex, you get the most out of your investment for both the hardware and your banners. Simply follow the instructions in our Banner Hardware Guidebook, and you should be able to install your hardware properly for long-term success.
BannerFlex has been offering the best banner bracket hardware on the market for nearly 40 years. Regardless of the message you wish to convey, we can provide you with reliable hardware to hold it in place, safe a secure for as long as you need it to. If you have any questions about the banner bracket hardware you need, please contact us today.