Celebrate Summer Festivals and More with Durable Street Banner Hardware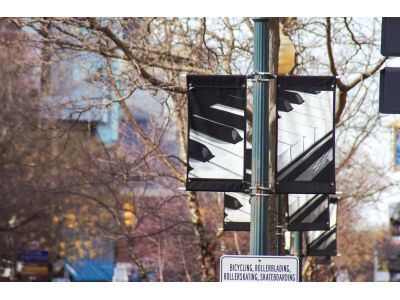 With summertime comes a variety of festivals for cities and towns that can benefit from dependable street banner hardware. BannerFlex by Consort provides banner bracket hardware to support street banners that can be fixed to almost any pole in typical downtown areas. When you want to get the word out about your local events, trust in BannerFlex.
Advertise how you want
Whether it's street lights, downtown poles, or even building sides, BannerFlex has options to help you get your street banners hung with our street banner hardware. Whether you prefer to use a tie-down bracket, round or square poles, or wall mount, the dependable gear from BannerFlex will guarantee a strong hold to show off your event's banner as long as you need.
Get the word out
When using these different methods to hang your festival banners, make sure you put them in enough locations that those who are interested can be made aware of the event. By placing banners with our banner bracket hardware at the event site, as well as locations outside of the site, you can ensure a large crowd to the event and get people excited for it in advance.
We do custom
If you don't have banners for your festival and need a unique design for it, trust in our sister company, Kalamazoo Banner Works. With a wide variety of standard designs perfect for typical holidays and capabilities to create unique banners for specific festivals or events, you can display a banner with the perfect message. Once you have your design, secure it with the bracket banding from BannerFlex and you'll have a great way to advertise your festival year after year.
Providing popular banner solutions since 1983, you can trust in BannerFlex to secure your outdoor vertical banners. Browse our options today to find the perfect solution to your summer displaying needs!