Advertise Long-Term with Standard Light Pole Banner Brackets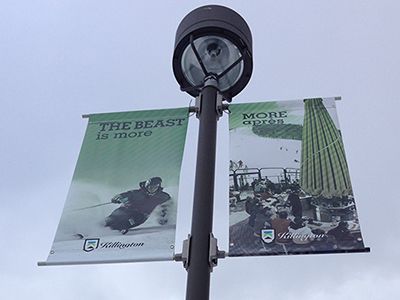 Even when looking at our standard, large-format light pole banner brackets, the hardware offered by BannerFlex is sure to provide you with the durable, long-lasting advertising you can depend on. From the sturdy base to a dependable pole for your banners, BannerFlex offers solutions to public advertising displays that are perfect for individuals, businesses, and governing bodies alike.
A strong base
BannerFlex's D3 banner bracket is the standard light pole banner bracket that will give you a simple but effective way to hang banners. Crafted from heat-treated cast aluminum, the base of your banner bracket can be durable, corrosion resistant, and accept a powder coating. Once affixed to the appropriate pole, your D3 banner bracket can stay there for the long-term. Banners can be installed or removed from the banner hanging system without moving or removing the main casting, so the process of putting up seasonal, or new banners is made easy.
Built for banners
The D3 arm casting from BannerFlex gives you the same strength from the standard main casting, but with the molded shape to fit the arms that hold your banners. Built ready to be secured by banding to the light pole of your choice, the arm casting can hold either the round or Airow fiberglass arms BannerFlex offers that will keep your banners aloft. With no moving parts, the castings we provide are built to last. With a 10-year warranty offered on our D3 brackets, even if something should happen with them, you are guaranteed to get the trustworthy protection you need, no matter what.
Whether you're in an area that deals with high winds or not, BannerFlex can provide the banner bracket hardware to fly street banners without worry. If you have a local event coming up soon, and would like a way to secure banners to advertise it, contact BannerFlex today!