Downtown Restaurants Reopen in Style with the Right Banner Bracket Hardware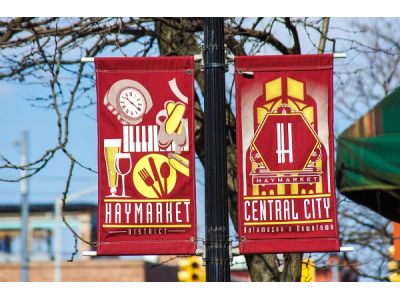 As stay-at-home orders are now starting to loosen and dine-in options for restaurants become possible again, these places can advertise the face that they're open once again through effective use of banner bracket hardware from BannerFlex. Branding and getting your message out effectively is more important now than ever before, and the tools from BannerFlex give you all the resources you need to get messages out in a hardy, dependable way.
Guide your purchase
To make the process of finding the perfect banner bracket hardware easier than ever, BannerFlex offers guided purchasing on our website for everyone interested in finding the hardware to suit their needs. With simple multiple choice answers, you first pick the style and height of the pole that you'll be hanging a banner from, then you choose the banner size and quantity per wall installation, and, lastly, the style and finish that your bracket will be. These questions are all used to ensure that your banner bracket hardware fits perfectly when it comes time for installation and getting up your banners in an effective way. Whether your banner is less wide that others, needed in a high-wind area, or any other factor, BannerFlex can find banner bracket solutions for you.
Find your banner
Want your banners taken care of with ease as well? BannerFlex's sister company, Kalamazoo Banner Works, carries a large variety of banners as well as the ability to submit designs for custom banners that they can print so you get the banner of your dreams. Durable, colorful, and designed to your specifications, the banners from Kalamazoo Banner Works with the hardware from BannerFlex will give you the best banners in the area for your restaurant to ensure you attract attention about reopening.
When you need trusted hardware to hang banners for the reopening of your downtown restaurant, BannerFlex in Kalamazoo has the tools necessary to help you get the message out now and well into the future. Contact us today or order online!