Extend the Life of Your Banner Bracket Hardware with Proper Maintenance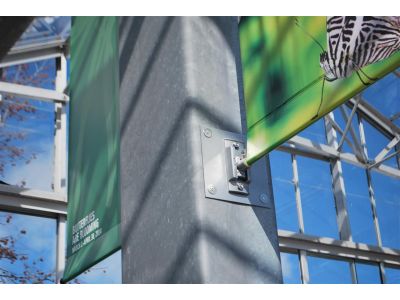 By making a sound investment in your banner bracket hardware, you can count on them to work properly for years to come. Backed by a 12-year warranty, the banner bracket hardware from BannerFlex are the best options in the industry to secure you banners through all seasons. While these products are virtually maintenance free, there is the possibility of gradual wear and tear if they are not installed and fastened properly. Keep your banners from coming loose and blowing away by checking them from time to time and making sure they are properly tightened. In today's post, we will look at the ways in which you can get the most out of your banner bracket hardware investment.
Properly Tighten Your Banner Brackets
BannerFlex bracket hardware is strong and durable, but without being properly fastened, it won't perform the way you need it to. While the actual hardware doesn't require maintenance, you should take the time to check the fasteners periodically to ensure that are properly tightened and secured. Fasteners that have become loose are vulnerable to high winds that can rip away the entire assembly, causing your banner to fly away. Failure to do so will eventually result in strong winds ripping away, so you need to check them from time to time and retighten them, when necessary. Your banners will come with step-by-step instructions that you can follow to make sure they are properly and safely, and there are even videos in which you can watch them being installed properly.
Make Sure You Have the Right Equipment and Tools
Without the right tools for installation, you banner bracket hardware may not function the way you need it to. Fortunately, BannerFlex can provide you with everything you need to complete installation for your banners. From a new banding tool to more banding roll, we can provide you with the tools necessary to install new banner bracket hardware or maintain hardware you have installed previously. No matter how harsh the weather gets, you can trust that your banner will hold strong and stay visible for your current and potential customers. If you should have any questions about which items you will need to keep you banner bracket hardware secure, feel free to contact us, and one of our helpful professionals will help you get exactly what you need to successfully display your banners.