Display Safety Practices for Returning Students with Banner Brackets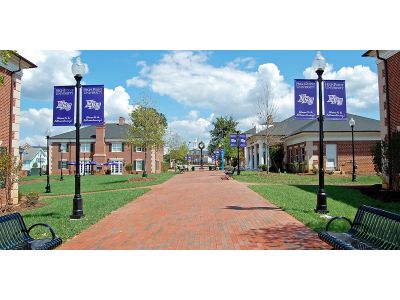 With COVID-19 still present and students returning to campuses, you can give reminders about safety practices by displaying banners attached to dependable banner brackets. We've seen outbreaks happening at different schools, and health and safety reminders can be a good way to make sure that those moving back on campus for the schoolyear are staying diligent in their responsibility to others to adhere to safety practices that can help everyone stay healthy. Find the right way to display these with BannerFlex.
All over campus
With options for light pole banner brackets, wall mounted banner brackets, and more, you can display your health and safety messages wherever you need to on your college campus. It's important to show your message in highly-trafficked areas to have the highest chance of your message being seen, and BannerFlex gives you the tools to do this wherever that may be. Our equipment is built to last, professionally constructed to serve your needs in an effective and easy-to-setup way.
Beyond the concern
When you invest in banner brackets from BannerFlex, you not only invest in a great way to get out health and safety messages to students going back to school, you also have a way to encourage school spirit in the future! We all look forward to the day we can safely enjoy group time and public spaces regularly again, and the banner brackets from BannerFlex are built strong, giving you a resource that you can use throughout COVID and beyond. Simply replace the banners that you have displayed, and you have a resource to show information about big game days, special holiday dates, campus events, and more.
Recognized globally for providing some of the best light pole banner bracket products on the market, BannerFlex has the hardware necessary to get out healthy living messages to students as they return to school in the age of COVID. Contact us today to get started on your order and toward a more informed campus!