Hold on Strong to Winter Messaging with Banner Brackets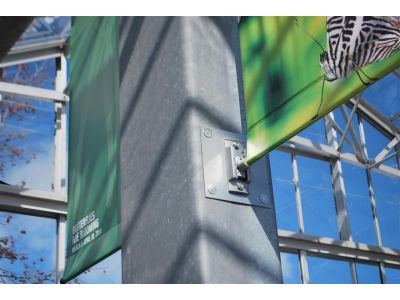 As we know in the Midwest, with winter can often come strong, cold winds, and banner bracket hardware can protect your banners whenever this happens. Crafted and distributed by BannerFlex, your winter banner hardware is the best tool to keep your messaging safe from any harm during freezing, heavy winds. No matter your banner bracket needs, BannerFlex will work with you to find a solution this winter and beyond.
Simple installation process
Provided for your purchases of banner brackets from BannerFlex are instructions that can give you all the guidance you need for proper installation. Following our direction, you can ensure that your banner bracket is fitted correctly wherever you are putting it, giving your banner the strong base that it needs to hang safely. Using the proper tools, this process is made simple thanks to our innovative design of banner bracket. A strong hold doesn't have to mean a difficult installation process, so make it easy and efficient with BannerFlex.
Investing in safety
Because banners are often hung in busy areas to get the most views possible, it is important that they are held strong by their hardware to ensure no accidents happen. The banner brackets from BannerFlex are test for wind-force up to 100 miles per hour, meaning that almost any weather conditions are no match for our hardware. This gives your banner the hold it needs not to fall and can give you peace of mind that your banner won't ever become unattached due to the elements, which could lead to an accident. BannerFlex gives safety and security that you can count on every time you hang a banner.
Always striving to give our customers quality customer service with the best banner hardware in the industry, BannerFlex is your best choice for banner brackets and more this winter. Contact us soon to get your banners hung safely and securely!