Get the Attention of Pedestrian Traffic with Our Banner Stands and Banner Brackets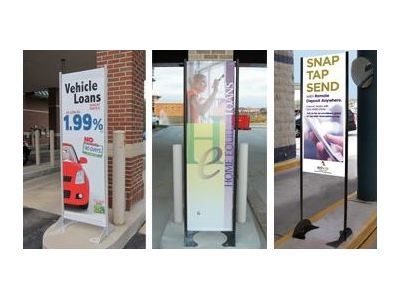 Now that summer has finally returned, that means more pedestrian traffic to your business. One of the best ways in which you can grab their attention is by using one of Bannerflex's quality banner stands. Whether you are looking to promote an event or new product, advertising a sale, or simply need to make a business announcement, these banner stands are the perfect way to catch the eyes of people walking past your business. These banner stands can also be used at restaurants, banks, or other businesses with drive-thru lanes. Read further for more information about how banner stands can help promote your business.
Attract More Foot Traffic to Your Store
If your business is located in an open mall or a strip mall, it can be easy to get lost in the shuffle with all the other businesses around. You need to take extra measures to attract customers into your store to remain competitive and profitable. With Banner Stands from Bannerflex, you can convey any number of messages to current and potential customers. These sturdy products will withstand inclement weather and can be updated every time you have new content to present to your customers. From seasonal sales to make room for newer merchandise to exciting new products, these Banner Stands will not only catch the eyes of customers walking through the mall but will also generate a buzz amongst your clientele.
Take Advantage of a Captive Audience in the Drive-Thru
We all spend time in drive-thru lanes from time to time. Whether waiting in line to get takeout from a restaurant, deposit your paycheck at the bank, get a prescription from a pharmacy, or another reason, you are a captive audience while waiting for the line to move. This is the perfect opportunity to convey a message to your customers. You can set up Banner Stands by your drive-thru lanes where your customers are certain to see them while waiting in line. Let customers know about a new menu item for your restaurant, inform people of special interest loans at the bank, promote vaccination clinics at your pharmacy, or convey whatever message you want your customers to see. No matter what type of business you are in, you can get the attention of more customers with a colorful message displayed with a Banner Stand from Bannerflex. Contact us today and let us know about the Banner Stands you need for your business.