Flexible, Durable, Reliable Banner Brackets to Promote Spring and Summer Festivities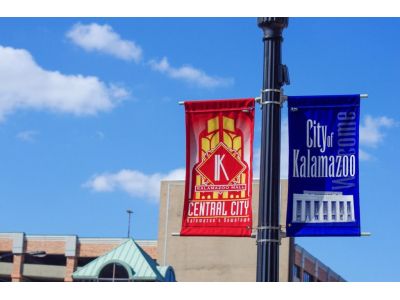 With the winter at last at its close, the time to look forward to spring and summer festivities is at last at hand. If you're planning your own events and want to get the word out, there are few better ways to do so than by using banners. Even so, the upcoming months can be some of the windiest of the year depending on your area, and reliable banner hardware could make the difference between your banners being seen by hundreds of potential eventgoers daily or ending up face down on a street. For that reason, we at BannerFlex recommend our top of the line banner brackets and bracket banding to ensure your event gets the attention it deserves.
State-of-the-Art Banner Brackets
Our BannerFlex banner brackets are tested against winds at speeds up to 100 miles per hour; a number that we are so confident in that we offer a 12-year warranty on each of our brackets. We also offer a variety of banner bracket sizes, ranging from 18"x38" to 36"x96", each uniquely designed to maximize reliability relative to their size. Our brackets also excel at accommodating nearly any type of building or exterior light pole you could want to attach a banner to.
Still concerned about your location's wind speed? Try our official wind force calculator to get an idea of how our banner hardware will hold up against even the wildest of wind speeds before you make your purchase.
Unparalleled Bracket Banding
Proper banding is the lynch pin of any reliable piece of banner hardware. Because we recognize how important proper banding is, we offer heavy-duty screw gear bands, which we cut to be .025" thick bands of stainless steel. For the screw, we use a "captured" screw as opposed to a "quick release" one, which translates to greater endurance and more opportunity for repeat uses than the conventional quick release model. Additionally, each of our buckles is resistant to oxidation and a plethora of moderate corroding agents, to maximize the amount of time you get out of each band before it must be replaced.
If you're looking to put up new banners and keep up the new banners you already have, then reach out to us today!