Passively Market Your Business Year-Round with BannerFlex Banners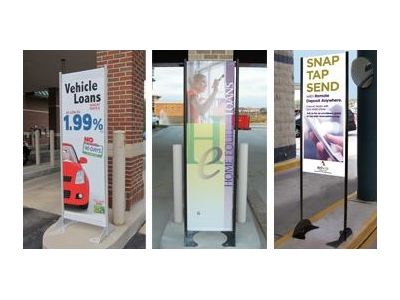 Anyone who runs a business could tell you that, often times, the hardest part is just getting people in the door. Your average car salesperson already knows the specs of the car they're selling and how to sell it—the only reason you see them standing around the dealership, waiting, is because a customer hasn't showed up yet.
Still, just because getting people in the door is hard doesn't mean it always has to be. Here at Banner Flex, we're pioneering advertising solutions using reliable, secure, and easily maintainable products. Our banner hardware is designed to withstand even the gnarliest winds that mother nature throws their way, ensuring that your banners get seen day-in and day-out by passersby everywhere.
Proven, Patented Banner Brackets
Our banner brackets are designed and tested to endure wind-force up to 100 miles per hour. At the same time, we build our banner hardware with flexibility in mind, so when the wind hits, your banners will bend, not break. We also make our banners out of specialized aluminum, crafted to resist corrosion, wear, and the aches of time. We're so confident in our banners that we recommend you check out our video here where we demonstrate the strength of our banners supporting the full weight of a human. Of course, we don't recommend trying this at home—leave it to the banner pros!
Banner Stands for Flexible Marketing Solutions
If you want more variation in where you can put your banners, we recommend taking a look at our banner stands. Our Bannerflex GMS Messenger banner stand is ideal for outdoor signage marketing throughout all seasons. The GMS Messenger is built to last, and can be bolted into materials such as wood or concrete for permanent placement.
The GMD Messenger is also hard to miss without being obtrusive. The Messenger utilizes a sleek-but-sturdy design to make sure that your banner is discovered by many and announced to few. The Messenger comes in 48" and 72" varieties, both of which are available in custom stand colors, to suit whichever aesthetic need you have for them. These stands are perfect for any private structure where drivers come to a stop, such as credit union or bank islands, drive-throughs, and more.
Are you interested in passively marketing your business to thousands of people each day? If so, contact us today or peruse our products to get started on growing your business today!