What Makes a Strong Light Pole Banner?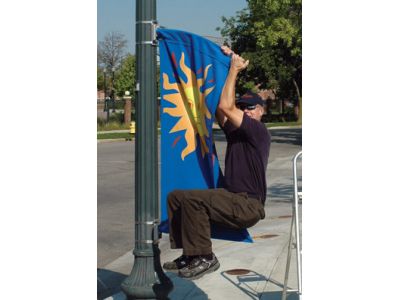 When it comes to getting your business' name out there, few strategies work as effectively on the local scale as light pole banners and banner stands. And it's easy to see why: banner marketing carries a two-step process to success.
Step 1) Fasten your Kalamazoo Banner Works banner to an exterior light pole.
Step 2) Revisit in 12 years when the warranty is up.
Needless to say, we at BannerFlex have the utmost confidence in our product. Yet, that begs the question, what are the qualities that make strong banner hardware? To answer this question, today's blog post will cover how BannerFlex banner brackets and hardware are designed to withstand both the test of time and the many curveballs that come with it.
Long-Lasting Through Every Season
Designing anything to last the test of time is already a tall order; designing anything to stand the test of time and work just as well as it always has is even harder. At BannerFlex, though, we prefer a challenge. That's why we created banner hardware so reliable, we slap a 12-year warranty on all of the banner brackets we sell. We're not just hoping that you set up your banner somewhere away from the elements, either. As a Kalamazoo-based company, we are intimately familiar with the many scorns of the Michigan seasons. To address the Michigan seasons and all the difficulties they bring with them, we designed our banners to remain durable beyond belief for over a decade.
Durable Beyond Belief
If we told you that our product was wind-force tested up to 100 miles per hour, constructed from corrosion-resistant aluminum, has held the weight of our employees, and is (literally) looked up to by hundreds of people each day, you might wonder if we were making banner hardware or early aircraft. We at BannerFlex believe that it is not just our responsibility, but our privilege to make the most reliable banner bracket on the market. We even have our own wind force calculator that you can use to calculate how our banner brackets and other hardware will fare in conditions specific to your area. If you want to use our wind force calculator to see how your BannerFlex hardware will do in your area (or just because it's fun—no judgement here!) click here to begin experimenting.
Are you interested in banner marketing so reliable and effective, you only have to do it once every twelve years? If so, contact us to place your order today.