Banner Brackets Built to Last Through Kalamazoo Weather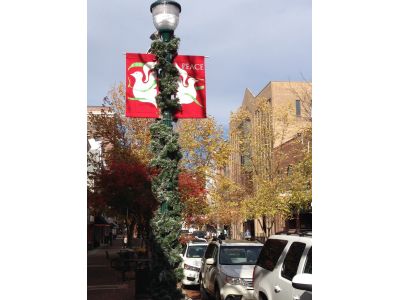 As the seasons begin to change from a temperate fall to a blustery winter, banner owners may be wondering to themselves: "will my banners be okay during a winter storm?"
At least, owners of our competitor's products might think so.
Created by Kalamazoo natives as the Kalamazoo Banner Works, BannerFlex banner brackets and banner hardware are built for all of the curveballs that Michigan weather can throw their way. Summer or winter, blizzard or hailstorm, our banner hardware is second to none in our industry.
In this month's blog post, we'll be detailing how our banner hardware is built to last throughout every season and keep your banners held fast even in unexpected circumstances.
Crafted for Every Season's Worst
BannerFlex banner hardware is designed to not just endure, but thrive in the varying weather conditions that Michigan stirs up every year. Our fiberglass banner arms are structurally designed to bend when faced with high windspeeds, so there's no rattling of the pole to cause wear and certainly no breaking of the arm altogether.
If you're still unsure about the capabilities of BannerFlex banner arms and brackets, though, we invite you to click here to check out our wind force calculator. Simply select the type of banner arm that you're considering purchasing, add your banner dimensions, and insert the max windspeed your area reaches. For a quick link to a graph of Kalamazoo's wind speeds, click here. We encourage you to find any peaks in wind speed that might have you concerned and enter them into our calculator.
Banner Brackets: Expecting the Unexpected
The designs of our banner brackets are so solid, we've literally filmed people hanging from them without the brackets even flinching. While we don't expect (and certainly don't recommend) that anyone try hanging from our banner brackets at home, we approach our banner brackets with the philosophy that—if something unexpected happens—our brackets and your banners should survive it. With this philosophy in mind, our banner brackets have the following properties:
Corrosion-resistant aluminum
Wind-force tested up to 100 mph
12-year warranty
Compatible with multiple sizes of banners
Are you interested in getting a hold of some of the highest-quality, most cost-effective banner brackets and banner hardware on the market? If so, then contact us at BannerFlex today. You deserve reliability in every product you put your trust in. Here at BannerFlex, we reward that trust with quality products and services every time.