Promote Football Season with Dependable Banner Hardware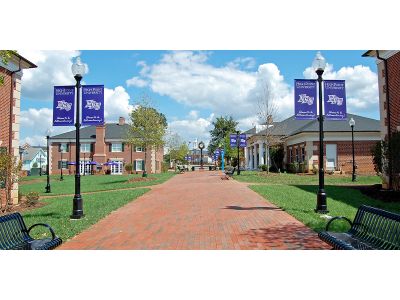 Football season is back upon us, and whether you're a marketer for a high school team or a university team, you can improve advertising efforts through the use of banner hardware. The banner brackets from BannerFlex are some of the sturdiest in the market, so even in the harshest of autumn winds, your banners can fly high without fear of autumn winds blowing them out of position.
Fly anywhere
Thanks to the accessories offered by BannerFlex, you can hang your school spirit flags for the football season almost anywhere. With a flap pole adapter, mounting bracket, square pole adapter, and even a wall mounting plate, there's no place you can't hang up your school's colors to get people excited about the big game. We also carry banner stands, so even places without a place to hang a banner can get the message about the big game, all from a sturdy, noticeable piece of hardware.
The right message
Our sister company, Kalamazoo Banner Works, can produce the perfect banners for your football season needs that are compatible with our banner hardware! Whether you want your team's logo, colors, date of a special game, or any other image/message, Kalamazoo Banner Works can provide the design, while we provide the means to safely hang it. You'll be hard pressed to find a better combination of products, and we at BannerFlex know you'll be satisfied once your banner is up and on our banner hardware.
From a long relationship with customers and learning their needs, BannerFlex has developed our products over the years to make them exactly what people need from their banner hardware. As innovators in the field, we are always looking for ways to make our products better, meaning our products can be counted on to give you dependability no one else can emulate.