Announce Events Throughout Winter with Sturdy Banner Hardware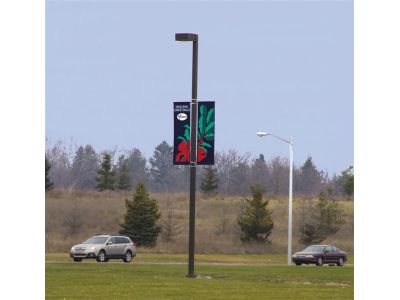 When you need to make announcements in an eye-catching way, light pole banners are often a great option, and the sturdy banner hardware from BannerFlex can ensure they stay hanging strong all through winter and beyond. With years of craftsmanship and experimentation of our design, BannerFlex's products are the tried-and-true hardware that you can be sure will keep your banners efficiently locked in place.
Weather resistant
When you use BannerFlex's banner hardware, you're using products that can stand up to the elements. Our tool applied banding buckles and banding are crafted from stainless steel, resisting oxidation and different moderate corrosive agents. As long as you follow the instructions on how to apply our banner hardware to your light poles, you get the dependable, sturdy hold for your banners that can last for years, even in the face of rough weather.
A full breakdown
If you're unsure of whether you want to go through the trouble of applying hardware banner to announce events this winter, check out our operating instructions! Easy to follow with pictures included, BannerFlex makes sure to provide a full breakdown of how to correctly apply our products to every customer. The best way to make your announcements known, BannerFlex is here to help.
Size and fit
By providing a variety of banner brackets for your banners, BannerFlex ensures anyone can get the banner hardware they need to get their message out through winter. Whether your area deals with high winds, needs a shorter arm length, or requires a banner perfect for a downtown setting, BannerFlex has an option for you.
Through helpful customer interaction and descriptive products, anyone can find the best banner hardware to help them hang winter announcements with ease. To find yours, contact us today or try out our guided purchasing to get on your way to the perfect winter banner!