Display New Year Messages with Light Pole Banner Hardware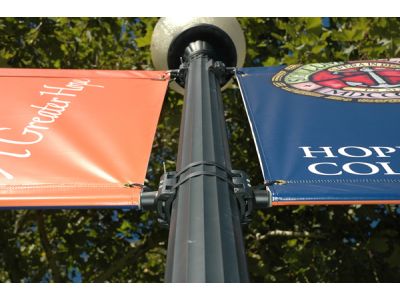 Whether it is messaging specifically for the New Year or planned marketing for your business or event some point in the future, BannerFlex can provide your banner messaging with the best light pole banner hardware available. Offering hardware that will ensure that your banner stays secure through the New Year and beyond, you can trust BannerFlex to help you find the best banner brackets, ties, and more to have effective messaging that will last.
Versatile light pole banner hardware
When you shop with BannerFlex for great light pole banner hardware, you have a wide selection of options available to ensure that you get the best to suit your situation. With different options of banner bracket arms available, you can get banner hardware to support less wide banners, banners that need to hold strong in the face of intense wind conditions, and more. All the banner hardware from BannerFlex gives your banners great support at a great price, making them your best option whenever you have outdoor messaging that needs to be seen.
Long lasting banner support
No matter the conditions that your banner is put up in, the light pole banner hardware from BannerFlex will ensure that your banner in the New Year stays hanging strong. Our hardware is designed to perfectly support banners in a way that helps them to be displayed while also providing them with the strong foundation they need to hang for long periods of time without getting damaged in any way. We have worked with banner hardware for decades, so you know that when you order from BannerFlex, you are ordering from the best in the business.
The superior and trusted brand of light pole banner hardware, BannerFlex can be your trustworthy banner support system for the New Year and years to come. Contact us to get started on your order.