Catch Ground-Level Eyes with a BannerFlex Banner Stand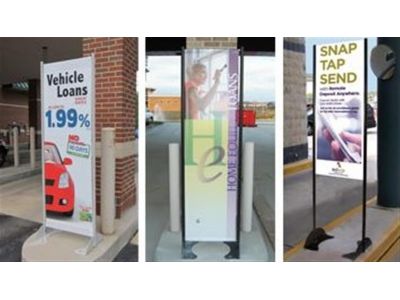 When your business needs to catch the eye of passersby at the ground-level, banner stands from BannerFlex can be exactly what you've been looking for. Whether your business is part of a walking mall, shopping center, or any other location that deals with large amounts of foot traffic, a banner stand from BannerFlex can provide the colorful, noticeable messaging you need it to, to help encourage individuals to enter.
Announce specials
Specials or limited time offers can be a great way to bring in foot traffic to your business. Giving regulars something interesting to come back to as well as encouraging new potential customers to stop by, running a promotion that gets more attention with a banner stand from BannerFlex is sure to help. With this advertisement, you can promote a single deal or many all in one place! No matter what you need out of your banner stand from BannerFlex, we can make it work.
Utilize how you need
Thanks to our tried and true banner holding designs, your banner stand can be used indoor or outdoor depending on the season, how many people you have coming in, and more. Some examples of indoor locations that are perfect for a banner stand from BannerFlex are shopping malls, superstores, and even trade shows! Whether sale item or self-promotion, you can see how these locations example locations and many more can be improved during special offers or events with BannerFlex.
Professional printing
Partnered with our sister company, Kalamazoo Banner Works, we at BannerFlex can provide you not only with a great stand for banners, but also acrylic or vinyl digitally-printed banners that can pop with color, have detailed imagery portrayed, and be designed in any way needed. Our services make every part of the advertising process as simple as possible, so you can focus on the business that comes after.
Banners are a great tool to use but need great hardware to go with them for the best results. BannerFlex ensures that your banner it held as best as possible with tested hardware, giving you all the tools you need to advertise effectively.