Display Information with Our Banner Stands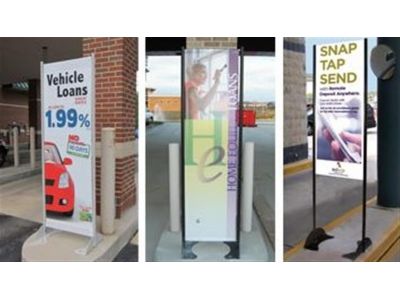 Whether you have a big event or a business, we can provide you with the banner stands that can convey basic information to the people you are serving while freeing up time for your staff members to focus on more important tasks. The banner stands will also decrease the amount of interaction needed between guests and staff to encourage social distancing and reduce the risk of spreading COVID or other illnesses. Let's take a look at the advantages of using banner stands to convey information at your business space.
You Can Place Them Almost Anywhere
Banner stands are the perfect solution for social distancing requirements for both indoor and outdoor needs. Perfect for queues for indoor businesses like banks or stores or any sort of outdoor event, our banner stands give you the convenience of displaying important information, including policies, rules, or even directions. This allows your guests to get answers to their questions without having to speak with your employees. The result is your guests and your employees both have extra time to spend on other things. We have banner stands that can handle banners of 4 feet or 6 feet in length and widths of 16, 18, 20, or 24 inches, giving you great flexibility for the types of banners you need for your business or event.
Reusable Design – Ready When You Need It
BannerFlex carries highly durable banner stands that offer long-term solutions for both indoor and outdoor applications. Whether you need a more permanent banner to post at a drive-in bank, a banner stand for current specials at a restaurant or grocery store, or short-term banners for special events, you can use the banner stands multiple times with different banners. All you have to do is replace the banner you are using with the banner containing the new information, and you get nearly unlimited display flexibility without having to invest in new hardware. The banner stands from Bannerflex are a great long-term investment that will benefit your business for years.
Once you have your quality banner stands from BannerFlex, be sure to contact our sister company, Kalamazoo Banner Works, to provide you with the banners you need to convey information to clients or guests for any indoor or outdoor event. These banner stands also allow you to do this without jeopardizing clients with too much unnecessary contact. Call BannerFlex today for more information about the banner stands you need.