Beautify Your Downtown with Eye-Catching Street Banners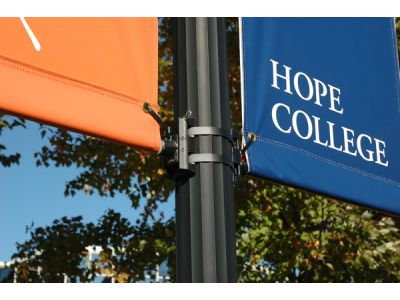 No matter where you are, if your city has a downtown, it can benefit from the colorful and trustworthy street banners from BannerFlex. Advertising for events, city festivals, local sports, and more are important when in a city, and the street banners and hardware from BannerFlex guarantee you get noticed. With the convenience of fitting on any preexisting light poles, the hardware that BannerFlex uses makes beautifying your downtown an easy process with major payoff.
Made for downtown
The street banners and banner brackets from BannerFlex can go almost anywhere, but the metro banner bracket with a round arm is specifically made for small to mid-size banners in a more metropolitan area. Like our other banner brackets, the metro banner bracket offers the strength and long-lasting durability you can expect from BannerFlex. We know that events and seasons in a downtown setting are always changing, and banners on banner brackets must follow that trend, so, we give every metro banner bracket the strength it needs for a longer lifespan.
Stay modern
The metro banner bracket not only has the strength for a downtown setting, but also the appearance. It offers a compact, sleek appearance popular with architects, one that is sure to fit in with your downtown's aesthetic. Having the more modern look, our metro banner bracket comes in regular or black casting and fiberglass, so you have the options you need to make your downtown look its best.
Leave out worry
One of the best parts of the banner brackets for your street banners at BannerFlex is the lack of work needed after they are installed. After being completed, our street banners can be left as is, and only need to be touched once your next event or a new season causes a change in banners to be made.
With tested strength, a great appearance, and warranty against defects, street banners and banner bracket hardware from BannerFlex is the best light pole advertising in the business. Having a long record of success stories regarding our products, see what BannerFlex can do for you today!