Why Our Light Pole Banner Brackets Beat the Rest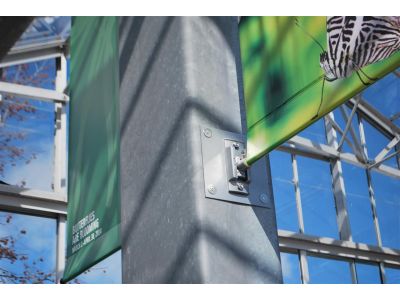 When anyone needs light pole banner brackets, there's a reason why BannerFlex is considered one of the best. An innovator in the industry, BannerFlex uses the materials and techniques to craft our products to make them the best in the business. Whether you're hanging banner in the heat of summer or the cold of winter, they'll keep hanging strong when attached to our banner hardware.
The very first
BannerFlex not only crafted dependable, durable banner bracket hardware, we were also the first company to use fiberglass arms for light pole banner brackets. And, not only were we the first, but the rest of the industry has followed in our footsteps since! A technology crafted by us decades ago can be seen on most banner hardware that you can see in downtown areas, streetways, and more.
The difference
So, why did we make the switch? The answer lies in flexibility. Many areas deal with wind conditions throughout their seasons that pulls on banners, which, in turn, pulls on the banner brackets themselves. So, when steel used to be the material used to construct them, they would, over time, get bent and distorted, causing banners to not hang properly, or become outright damaged. So, banners that normally would have been able to be used for years to come would suffer tearing due to faulty hardware holding them. Sturdy, yet flexible, fiberglass became the obvious alternative in our design that could set us apart from the competition not only in materials, but in durability and efficiency as well.
A globally recognized brand, BannerFlex is used all around the world where there are light poles that can have banners hanging from them. Whether you need to advertise for a local holiday celebration, upcoming sports game, concert, or any other public event, BannerFlex has the hardware to help you dependably hang banners where you need them.