Indoor Advertising is Only a Few Pieces of Banner Hardware Away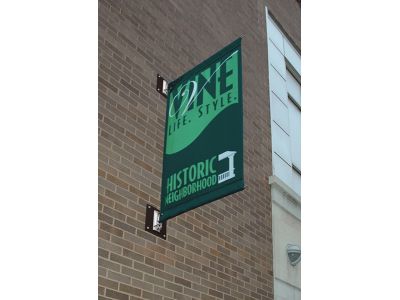 Whether you are a school helping to guide students through larger structures, a local library, or any other building that wants a great way to provide guests with information, you can trust the banner hardware from BannerFlex to hold messaging tight. Although much of our banner bracket hardware is designed to be used in outdoor settings, BannerFlex also offers wall-mounted banner hardware to give institutes and businesses alike a simple, yet effective way of hanging banners with relevant information.
Find your style
With BannerFlex wall mount banner hardware, you can choose a style that matches the look you want for your banners to make them the most visually appealing and stand out the way you need. BannerFlex offers wall mounted banner plates in a square base, block square base, or a plate/diamond base. Each one will give your banner the same great hold it needs to dependably hang on to banners for extended periods of time, allowing you to put out messages that can last an entire semester or season.
Frequent event usage
When your location that is receiving a wall mount plate needs to frequently change its messaging because the events, holidays, and more that your showing are also changing often, the banner bracket hardware from BannerFlex allows you to swap banners out with ease. Our wall mount plates attach the same bracket arms that our regular mounting equipment uses, so by simply undoing the ties attached to your banners, you can slide them off and on with little effort. All BannerFlex's hardware is designed for ease of use to make the process of advertising messages easier than ever.
With products that are custom assembled per order, BannerFlex ensures that your banner hardware will be exactly what you are looking for to improve your methods of hanging indoor banners. Contact us today to start an order or learn more about how to use our products.